back
TEEKANNE – Feeling good tastes good. And even better in a sustainable package!
17.02.2021
TEEKANNE, one of the world's leading manufacturers of tea bags, banks on sustainable packaging. That means: Getting the tea out of the foil wrapper and into environmentally-friendly paper wrappers. One of the print shops where the new paper-based material for covering tea bags is printed is MM Graphia Innovaprint.
Taking responsibility
Founded 138 years ago, Teekanne GmbH & Co. KG was the first company to sell pre-packaged tea blends as a branded item. Today, TEEKANNE is one of the world's leading tea sellers and sets the standards when it comes to product quality, safety and hygiene. TEEKANNE takes responsibility. Not only in terms of raw materials, but also regarding packaging, which is subject to the highest quality requirements and at the same time has to satisfy the company's sustainability principles. TEEKANNE focuses on reducing and optimising packaging. Already, the company uses almost exclusively recyclable, paper-based packaging and is continuously trying to further reduce the use of plastics. For instance, they have largely stopped using the cellophane outer wrappers on their folding cartons, and are converting the individual wrappers of their tea bags from foil to a sustainable, paper-based alternative as well.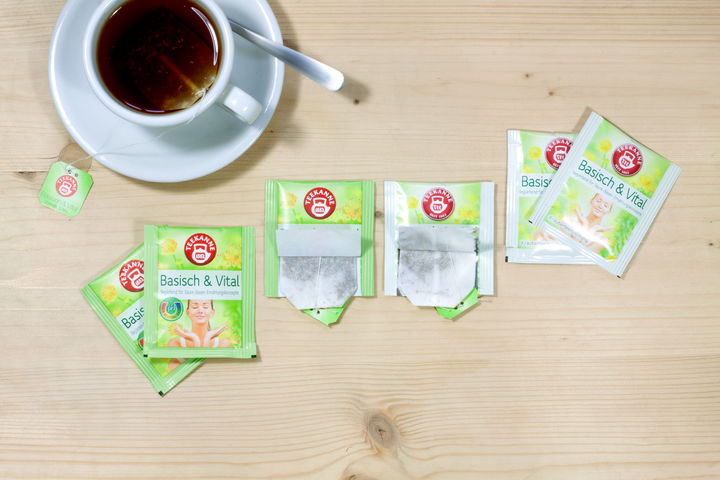 Paper wrapper instead of foil: Small actions with large impact
The conversion of the TEEKANNE tea bag wrappers from aluminised foil to paper wrappers is an important step in the company's sustainability strategy. The new paper cover satisfies the highest hygiene requirements and safety standards, yet it is completely recyclable. The paper reels are printed with high quality water-based, solvent-free inks that do not migrate to the tea. The printing is done at the German MMP plant MM Graphia Innovaprint, which specialises in reverse side heat-sealing coatings. Sustainable tea indulgence is guaranteed.
"We take responsibility in every single phase of our value chain. Of course that also includes the packaging of our products. We are working full speed on various approaches for making our packaging even more sustainable, because we want to leave behind a healthy environment – for our generation and the ones to come. Converting to sustainable paper wrappers is another step toward becoming a little better every day, one sip at a time," Michelle Sommer, Sustainability Manager at Teekanne GmbH & Co. KG.