back
When sustainability becomes corporate social responsibility: MMP Colombia donates prize money to retirement home
11.12.2020
In the first round of the 'MMP Sustainability Award' - a competition for particularly sustainable packaging - MMP Colombia won the first prize with its packaging solution 'FrisBurrito', a burrito packaging made of 100% sugar cane fiber, and recently donated the winning prize of 1,000 euros to two retirement homes in Yumbo.
The money was used to buy food and hygiene products and for the region's population most affected by the pandemic and most vulnerable. The goods were enough to supply 30 seniors with much-needed items for about three months.
"Especially at this time so close to Christmas, it was a special concern for us to also think about our elderly people, some of whom live alone in senior centers and are particularly isolated by the pandemic, in order to give them some joy and show that we care about them", says Meliza Zapata, HR Manager at MMP Colombia.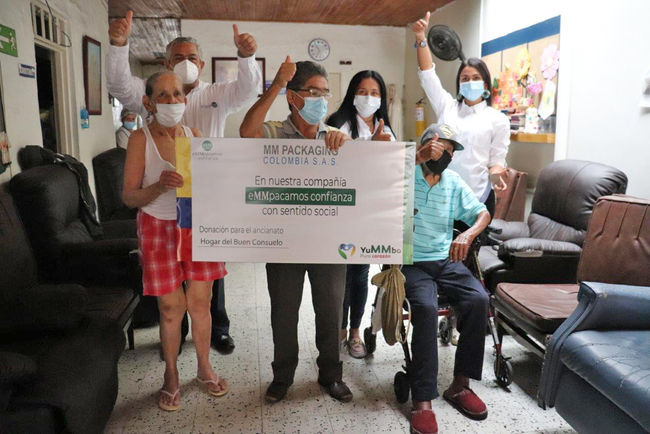 Social impact for the whole region
In addition to this generous donation to the two retirement homes, MMP Colombia has already taken measures to protect the population in the region since the outbreak of the pandemic, thus making an important contribution to society. On the one hand, protective masks were distributed and on the other hand, the plant has continuously provided materials for the production of protective shields and thus equipped the surrounding trade and authorities. For instance, the colleagues also participated in the local recycling campaign, where PET and glass bottles were collected and subsequently used to produce protective shields. They were able to deliver about 20,000 units as far as Bogotá.
"2020 has been a very challenging year for all of us, both personally and professionally. Today, after almost 10 months of dealing with the global pandemic, I feel very proud of leading such a resilient organization as MM Packaging Colombia. We did a great job of doing everything in our power to protect our colleagues and to continue earning the trust of our customers. Teamwork and empathy were critical to keep our employees committed and at the same time deliver business results, since we were recognized as a system-critical supplier during the crises due to the nature of our products and our social responsibility. The crisis is far from over, but we have learned that a positive attitude, passion, business perspective, and a winning mindset can turn things around for the better despite uncertainty," says Fernando Pereira, MD MMP Colombia.