back
MM Packaging and Crane's Micro-Optics provide pharma packaging security you can bank on
27.09.2023
When it comes to pharmaceutical packaging security, it pays to be ahead of the curve.
Faced with an influx of counterfeit products in the market and the associated risk to public health, today's pharma companies need packaging that they can rely on to keep their products safe. But rather than searching high and low for the latest innovations, the answer may already be found in their wallets.
As a pioneer in the development of overt security features, MM Packaging's partner, Crane Authentication ('Crane'), has been tasked with safeguarding some of the most valuable banknotes in the world, including the US $100 bill. In particular, its PROFOUNDTM Micro-Optics technology provides a secure, irreplicable solution that MM Packaging now employs in its pharma products to help put counterfeiters out of commission.
First introduced to currency over a decade ago, micro-optics technology like PROFOUND consists of millions of microscopic lenses, specifically shaped to focus on small, customisable icons applied to the substrate beneath them. This effect results in three-dimensional depth and movement, making it simple to quickly determine a product's authenticity at a glance.
PROFOUND's Micro-Optics security is a direct result of how it is made. These Micro-Optics are made from unique raw materials and production methods that are a closely guarded secret, requiring secure proprietary tooling and software only accessible by Crane. As a result, counterfeiters have no easy starting point for where to even begin replicating the product.
Thanks to the partnership between MM Packaging and Crane, this world-leading anti-counterfeiting technology has now been introduced to the world of pharmaceutical and healthcare labels and packaging. As the leading provider of tamper evident cartons and labels, we provide our wealth of experience in design, integration and fabrication, as well as the expertise of our in-house design and R&D centres, to ensure products protected by PROFOUNDTM Micro-Optics are already optimised for customers' packing line capabilities. These can be applied as a tamper evidence label, combined with serialization, with bespoke design and as a simple authentication label. Both can be dispensed either onto a carton or directly onto the primary packaging.
In addition to enhancing security, PROFOUNDTM Micro-Optics enable companies to maintain their brand identity due to their uniquely high degree of customisability. Customers can integrate their own logos or brand colours into the micro-optics design, with bespoke animations incorporated to help them make the packaging truly their own.
Features like micro-optics are critically important to the modern pharmaceutical industry due to the growing prevalence of counterfeit goods. Worldwide, the market for fake pharma products is valued at $4.4 billion per year, with as many as 30% of the drugs in certain countries' supply chains suspected of being counterfeits. Pharmaceuticals are now the 10th most counterfeited product in the world and are widely recognised by authorities as posing a major risk to public health.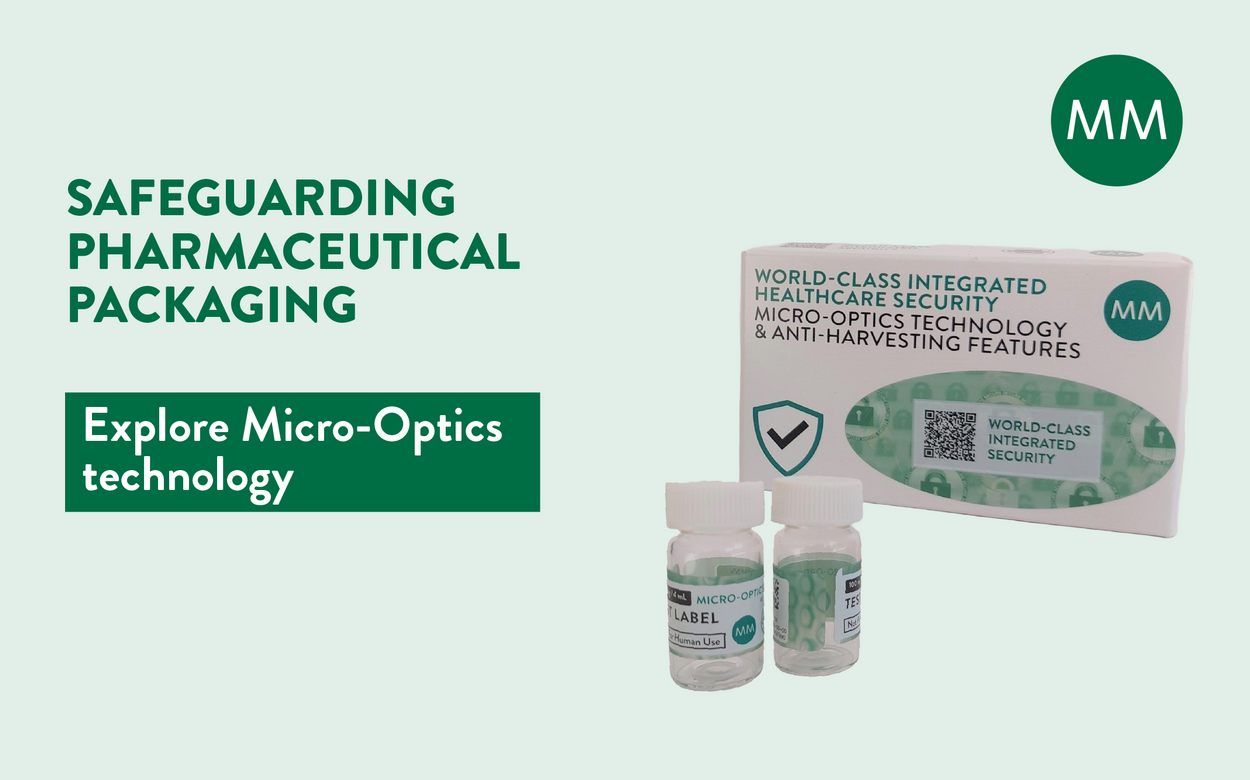 Addressing this challenge will require a combined approach to packaging security. As well as Micro-Optics, truly secure packaging in today's business landscape must employ a range of overt and covert security features that work in concert to put effective simulation out of reach – for example, by combining Crane's technology with serialization. This layering of technologies results in highly secure packaging that is still easy for consumers, patients, and healthcare professionals to quickly authenticate.
Counterfeiting as a problem for the pharmaceutical industry is unlikely to disappear soon. Without a single simple solution, pharma suppliers must take a more holistic approach to protecting their products. Thankfully, with industry-leading micro-optics technology providing a capstone to your packaging security features – and partners like MM Packaging on hand to guide you through the process – it's never been easier to achieve packaging security you can bank on.